How to Play
Overview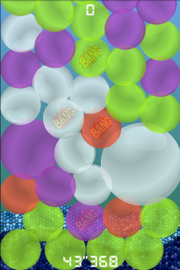 Tap chains of 3 or more bubbles of the same color to pop them. If a bubble is not chained, tapping it will inflate it.
Longer chains are worth more points. Score as much as possible before time runs out!
Some bubbles have clocks in them, pop them to gain more time.
Some bubbles have explosions in them, pop them indirectly or you'll lose time.
Tips
Upgrade your combo multiplier with Super, Mega and Ultra Combo upgrades.
Brandon's Pro-Tip: Sometimes you'll want to grow a bubble to connect it to a larger chain.
Tyrler Says: Never tap an explosion bubble directly! Pop it as part of a chain to safely disarm it.
Tip from Nate: Longer chains of bubbles are worth more.
Get the Tilt Bubbles upgrade to shake things up!
Upgrades
Bubble Booyah Upgrades
Upgrade
Description
Cost
Bling Bling
With Bling Bling enabled, bonus coins will be made available in this game
x500
x1
Ice Bling
With Ice Bling enabled, diamonds will be made available in this game.
x5,000
x1
Hour Glass
Increases the amount of time added for time bonuses.
x7.500
x1
Tilt Bubbles
Control the direction of gravity by tilting your phone.
x8,000
x1
Combo Upgrades
Upgrade
Description
Cost
Normal Combos
Normal bonus for longer chains.
Free
Super Combos
Increase combo bonuses exponentially for longer chains.
x5,000
x1
Mega Combos
Increases combo bonuses exponentially for longer chains. More effective than Super Combos.
x15,000
x1
Ultra Combos
Increases combo bonuses exponentially for longer chains. More effective than Mega Combos.
x50,000
x1
General Upgrades
Upgrade
Description
Cost
Auto Submit
Auto Submit can be purchased for each game, and once enabled your scores in this game will automatically be submitted to local and online leaderboards.
x250
x1
VIP Pass
VIP Pass can be purchased for each game and when it is enabled you get to skip the countdown before playing that game!
x500
x1
Star Power
Star Power increases the coins earned per star when completing this game. Instead of getting 5 coins per star, you will get 250 coins per star.
x15,000
x2
Stars
Stats
Play Time

How much time have you put into Bubble Booyah?

Probably not enough!

Only spent time in game is counted, hanging out in the menus doesn't count.

15m 0s
30m 0s
1h 0m 0s
Games Played

The number of times you have played Bubble Booyah since purchasing this stat

You must finish a game for it to count.

10
50
150
Bubbles Popped

Whenever a purple bubble is popped this stat increases.

500
1,000
2,000
Bubble Master

The longest chain of connected bubbles popped.

5
10
20