How To Play
Overview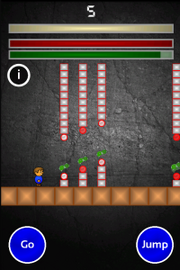 Build your hero into a champion of running and jumping!
Set your abilities before beginning the quest, level up to gain more ability points.
Press the Go button to run and the Jump button to jump.
Jumping consumes Stamina, and hitting obstacles reduces your Health.
Spells are unlocked as you get further, and consume Magic.
Scoring is based on loot collected.
Tips
Brandon's Pro-Tip: There is a final stage, can you make it there?
Tyler Says: Don't forget to spend all of your ability points!
Jump determines how high you can jump, and Speed determines your maximum running speed.
Endurance determines how fast you regain Stamina, and Constitution determines how fast you regain Health.
With high Luck you will be swimming in loot and topping the leaderboards.
When your Stamina is drained, you won't be able to jump. When your Health is drained, the quest will end.
Leveling up adds to your Max Health, Max Stamina, Max Magic, and gives you more Ability points to spend at the start of the next retry.
You can rearrange your ability point distribution before each attempt to complete the quest.
The max level is 40, after that you will stop earning EXP until we raise the level cap.
Upgrades
Hurdle Hero Upgrades
Potions
Magic Spells
Upgrade
Description
Rejuvinate
While casting, your hero will regain 10 Health and Stamina per second.
Barrier
Charge up a barrier shield which absorbs impacts with obstacles.
The longer you cast, the more barrier charges appear - up to 5 charges.
An impact with an obstacle removes a barrier charge, and prevents all damage.
This spell is awarded to you for making it to Beginner's Pass
Dash
Use Magic to dash forward with lighting speed.
In air, you will come to a halt when the dash is finished.
This spell is awarded to you for making it to Brandon's Byway.
Shrinky
Use Magic shrink to smaller proportions.
Shrinky remains active until uncast or Magic runs out.
This spell is awarded to you for making it to Steve's Starry Way.
Footwear
Upgrade
Description
Cost
Shoes
Poor Heros cannot afford good boots.
Free
Speed Boots
+20% Running Speed
x2500
x1
Jump Boots
+20% Jumping Duration
x25,000
x3
Berserker Boots
20% of damage taken is added to Stamina
x50,000
x5
Armour
Upgrade
Description
Cost
Shirt
Poor Heros cannot afford good armor.
Free
Leather Armour
-1 Damage taken from obstacles
x5000
x1
Scalemail Armour
-2 Damage taken from obstacles.
Recover +2 more from potions and regen tiles.
x15,000
x2
Obidian Armour
-3 Damage taken from obstacles.
Recover +4 more from potions and regen tiles.
+1 EXP from jumping small bombs.
x100,000
x10
Left Ring
Upgrade
Description
Cost
No Left Ring
Poor Heros cannot afford rings.
Free
Ring of Endurance
+20% Stamina Regen Rate
x25,000
x3
Ring of Stamina
+25 Max Stamina
x75,000
x8
Ring of Magic
+25 Max Magic
x100,000
x10
Right Ring
Upgrade
Description
Cost
No Right Ring
Poor Heros cannot afford rings.
Free
Ring of Constitution
+20% Health Regen Rate
x25,000
x8
Ring of Health
+25 Max Health
x75,000
x8
Ring of Intelligence
+20% Magic Regen Rate
x100,000
x10
General Upgrades
Upgrade
Description
Cost
Auto Submit
Auto Submit can be purchased for each game, and once enabled your scores in this game will automatically be submitted to local and online leaderboards.
x250
x1
VIP Pass
VIP Pass can be purchased for each game and when it is enabled you get to skip the countdown before playing that game!
x500
x1
Star Power
Star Power increases the coins earned per star when completing this game. Instead of getting 5 coins per star, you will get 250 coins per star.
x15,000
x2
Stars
| | |
| --- | --- |
| | 10,000 points |
| | 4,000 points |
| | 1,500 points |
| | 750 points |
| | 300 points |
Stats
Play Time

How much time have you put into Hurdle Hero?

Probably not enough!

Only spent time in game is counted, hanging out in the menus doesn't count.

15m 0s
30m 0s
1h 0m 0s
Games Played

The number of times you have played Hurdle Hero since purchasing this stat

You must finish a game for it to count.

10
50
150
Obstacles Jumped

The total number of obstacles jumped.

500
2,500
10,000
Jumping Streak

The longest streak of jumping obstacles without taking damage.

10
50
100
Health Regenerated

The total amount of health regenerated by your hero.

1,000
10,000
100,000
Stamina Regenerated

The total amount of stamina regenerated by your hero.

1,000
10,000
100,000
Longest Life

The longest distance traveled in a single life.

250
500
1,000