How To Play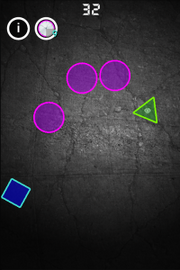 Overview
Swipe to cut the shapes. Do not let shapes fall off the bottom of the screen, miss 3 times and you'll lose. Watch out for flashing Bombs! Hitting a Bomb will count as a miss.
Tips
Go for combos! Slicing multiple shapes in a row within a small amount of time gives bonus points.
Tip: Let the bombs fall, if they blow up it counts as a miss and cancels combos.
Some shapes have loot inside of them!
Try the Slow Mo upgrade when things get hectic.
Pro-Tip: Use more than one finger to slice and dice more shapes.
Upgrades
Shape Ninja Upgrades
Upgrade
Description
Cost
Oopsie
Your first mistake will be ignored.
x1,000
or x1
Slow Mo
Consume this to slow down time.
x1,000
or x1
Ice Bling
With Ice Bling enabled, diamonds will be made available in this game.
x5,000
or x1
Heart Breaker
Makes heart shapes worth 5 points instead of 1.
x5,000
or x1
Combo Upgrades
Upgrade
Description
Cost
Normal Combos
Normal bonus for longer chains.
Free
Super Combos
Increase combo bonuses exponentially for longer chains
x5,000
or x1
Mega Combos
Increases combo bonuses exponentially for longer chains. More effective than Super Combos.
x15,000
or x2
Ultra Combos
Increases combo bonuses exponentially for longer chains. More effective than Mega Combos.
x50,000
or x5
General Upgrades
Upgrade
Description
Cost
Auto Submit
Auto Submit can be purchased for each game, and once enabled your scores in this game will automatically be submitted to local and online leaderboards.
x250
x1
VIP Pass
VIP Pass can be purchased for each game and when it is enabled you get to skip the countdown before playing that game!
x500
x1
Star Power
Star Power increases the coins earned per star when completing this game. Instead of getting 5 coins per star, you will get 250 coins per star.
x15,000
x2
Stars
Stats
Play Time

How much time have you put into Shape Ninja?

Probably not enough!

Only spent time in game is counted, hanging out in the menus doesn't count.

15m 0s
30m 0s
1h 0m 0s
Games Played

The number of times you have played Shape Ninja since purchasing this stat

You must finish a game for it to count.

10
50
150
Shapes Cut

The total number of shapes you've chopped.

500
2,500
10,000
Consecutive Shapes

The longest streak of cut shapes without missing a shape or hitting a bomb.

75
200
500